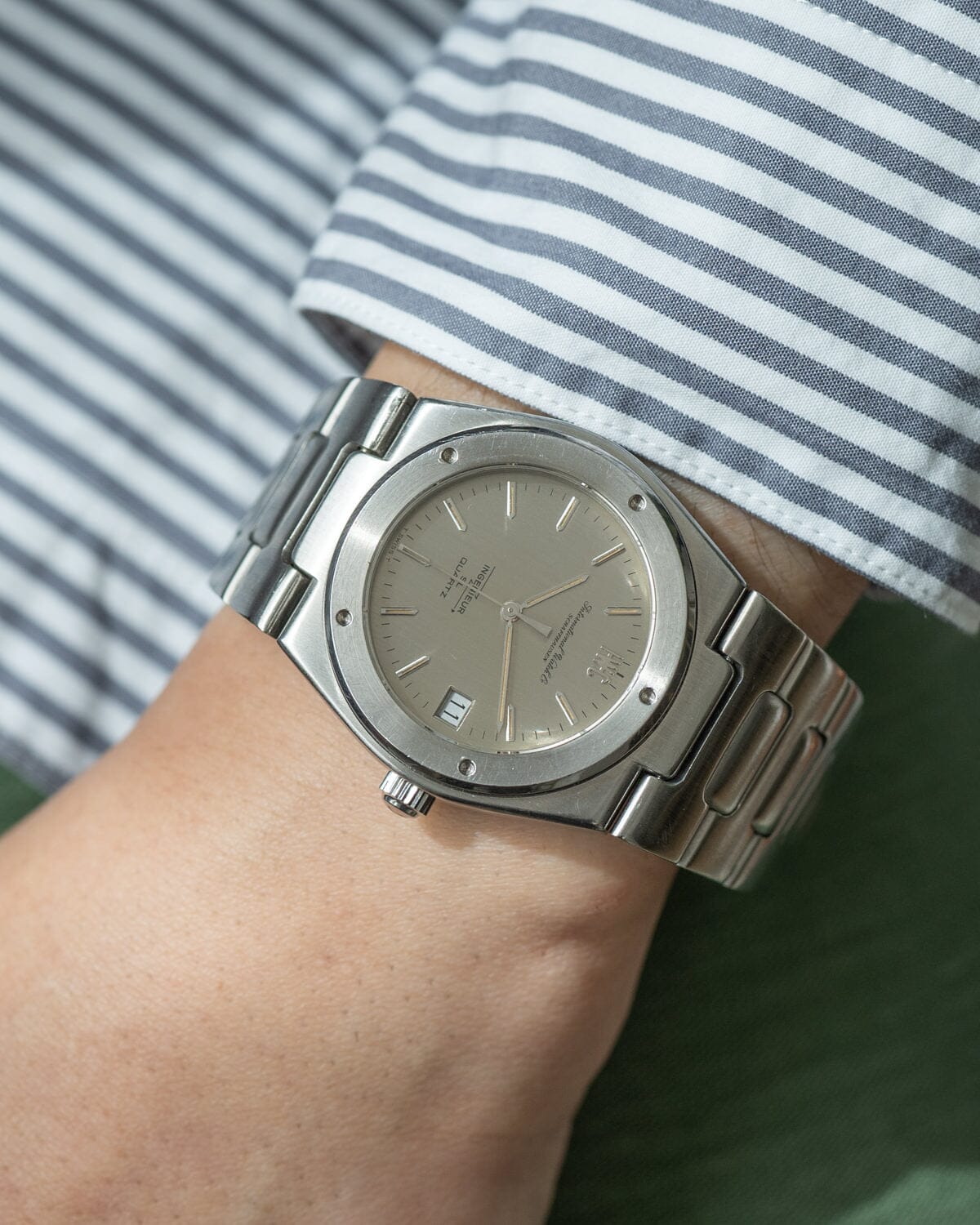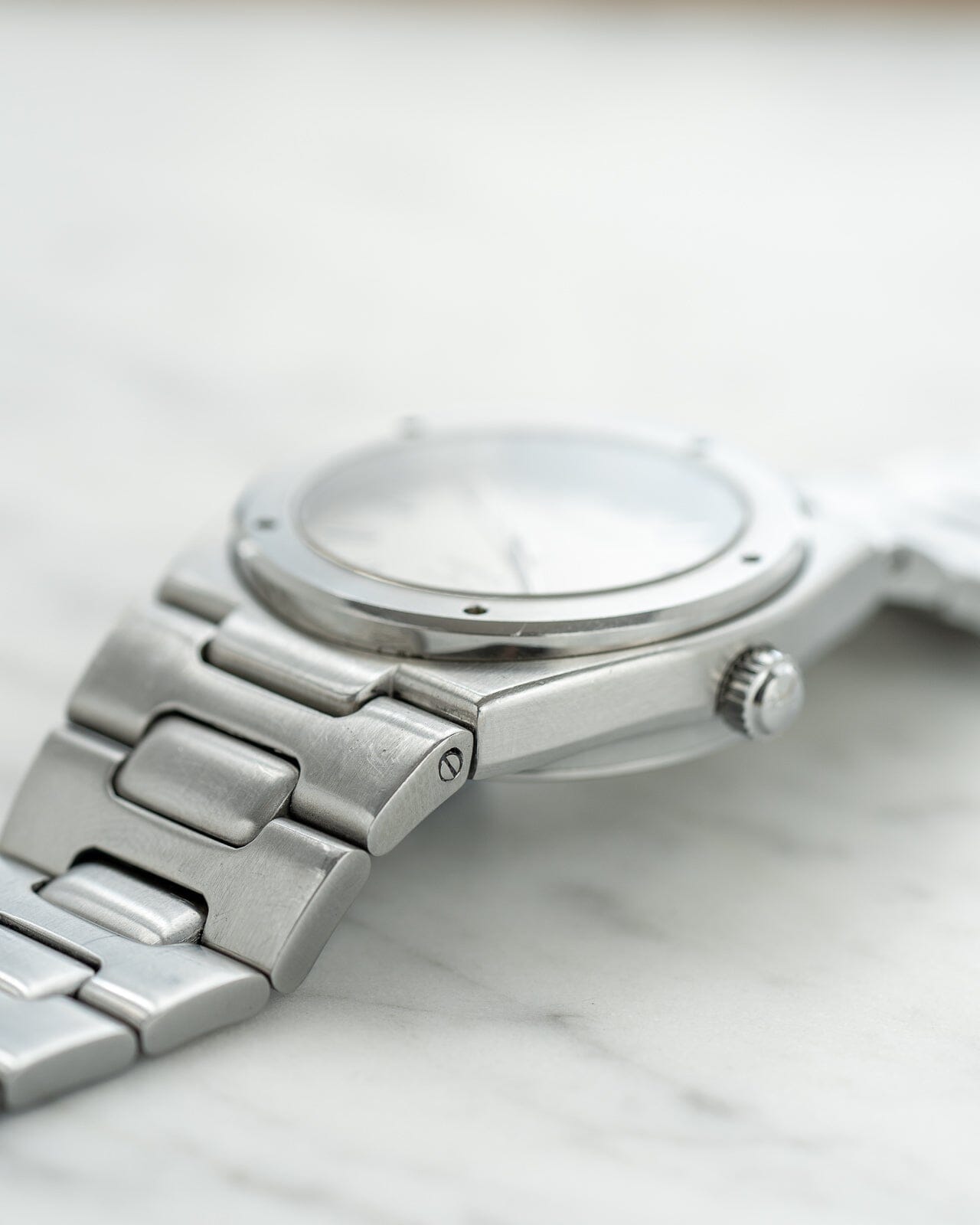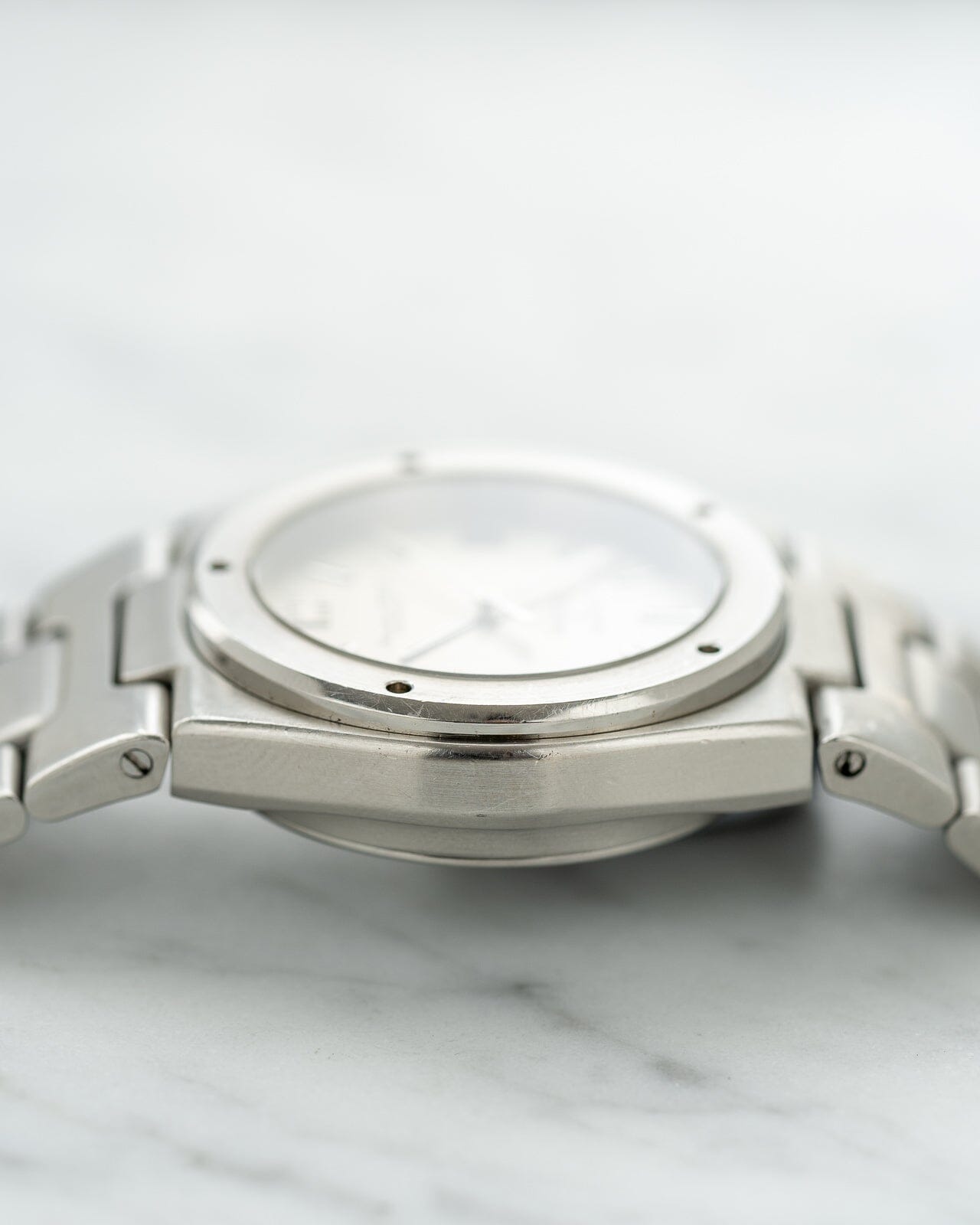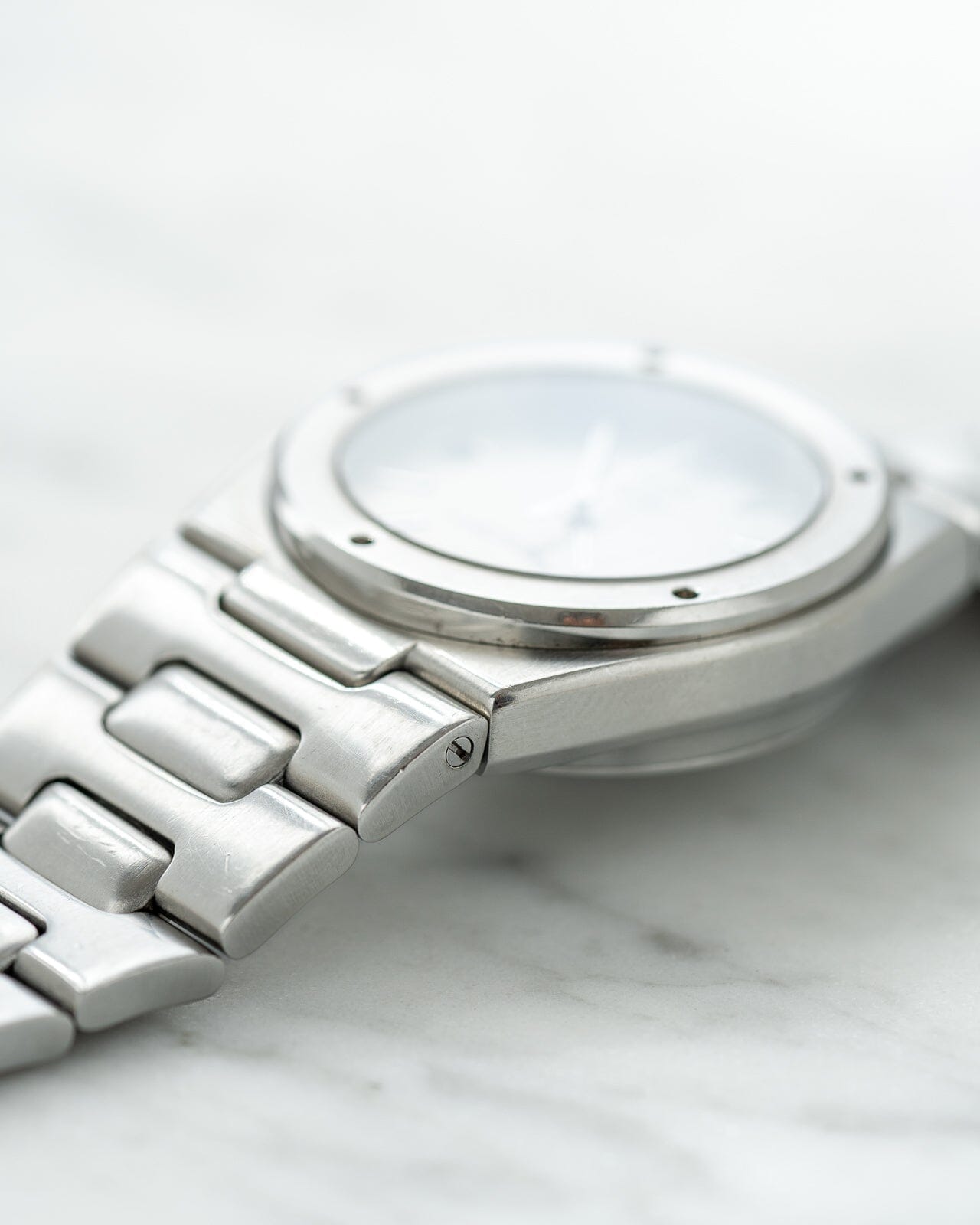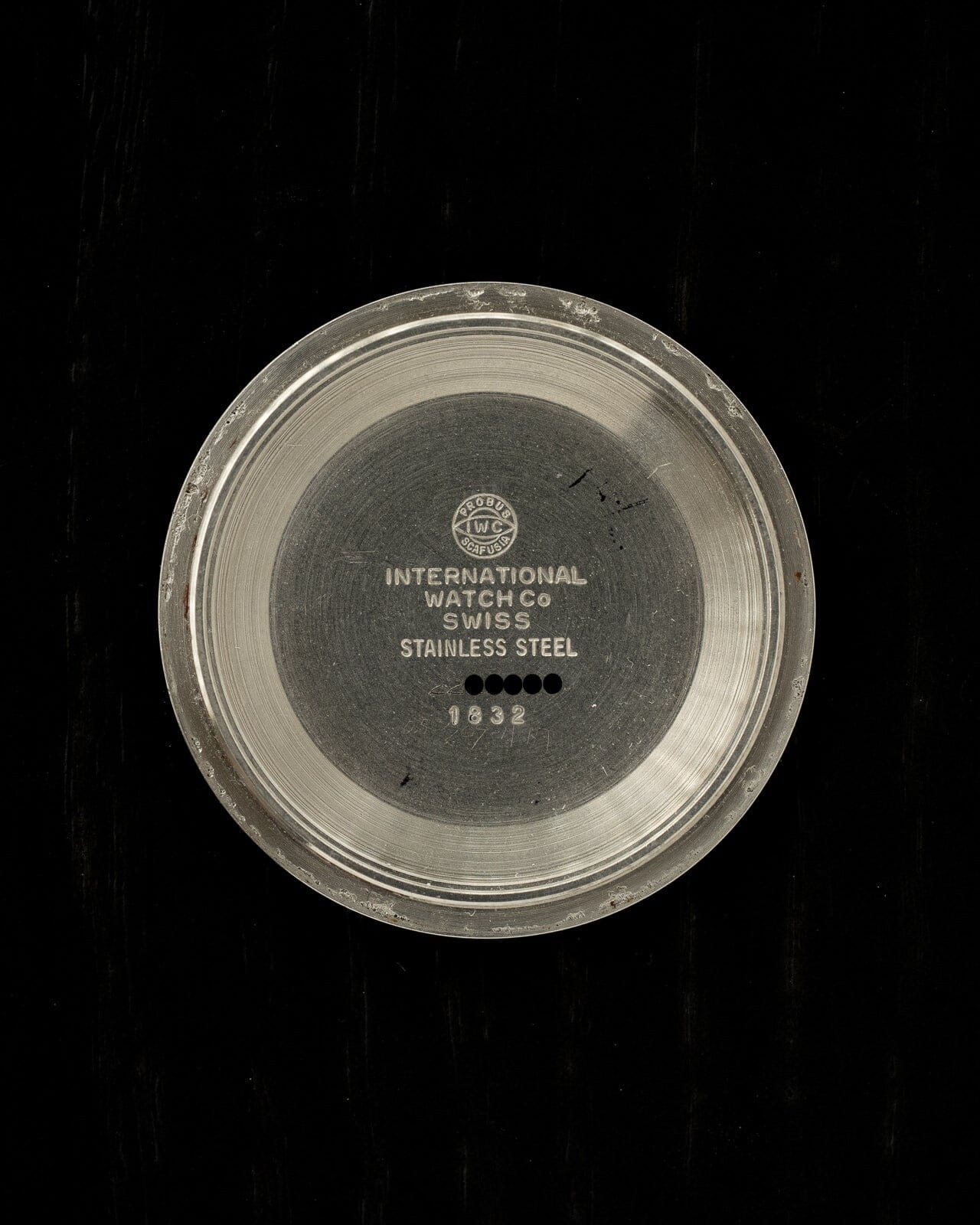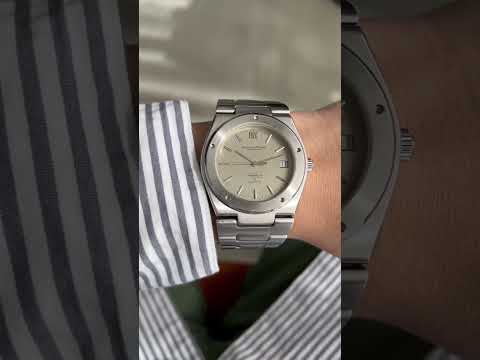 IWC Ingenieur SL Jumbo 3003 (1832) Quartz
SKU: IWC039
Payment method : Credit Card or Bank Transfer
---
-Specifications
*This item is only available for "bank transfer" payment.
If you hope to purchase by credit card, please contact us first.
Thank you for your understanding.

Brand
IWC
Model
Ingenieur SL Quartz "Jumbo"
Reference
3003 (1832)
Year
1976 to 1979
Serial
22xxxxxx
Movement
Quartz Cal.2405
case
40mm
Thickness
12.5mm
Materials
Stainless steel
bracelet
IWC steel bracelet
bracelet length
Approx 20.5cm
Includes
Watch Only
Notes
The watch has been completely serviced by our watchmaker recently
The battery has been replaced with brand new in the service
Warranty
1-year Mechanical Warranty by us
Shipping
Free Global shipping via FedEx International Priority

*The photo of the movement was taken before service.
---
-Description
The Ingenieur, one of IWC's most iconic collections, means "engineer" in German.

Equipped with a automatic movement and a soft-iron inner case, its main features were extremely high resistance to magnetic fields, shocks, and water resistance.

Since then, the collection has undergone several model changes and continues to this day, albeit with different designs.

The Ingenieur SL Jumbo Ref.1832 was introduced in 1976.

It was the first Ingenieur designed by the famous, Gerald Genta.

This watch, Ref. 3003, is a quartz version of the Ingenieur SL Jumbo Ref. 1832.

While not as elaborately finished as the "luxury sports" watches such as the Royal Oak and Nautilus, the refined design of the steel watch with integrated bracelet is in line with this trend.

The Ref.3003 is a very small production run of 335 pieces in steel and steel/gold combination.

The Ref. 1832 with automatic winding was produced in 543 pieces, and only about 900 pieces of both automatic and quartz winding exist, making it a rare piece.

With a case size of 40 mm and a thickness of 12.5 mm, it was very large for a mid-1970s watch, and the name "Jumbo" is derived from its size.

The external parts are exactly the same as those of the automatic models.

Therefore, it was possible at the time for IWC to officially replace the automatic model with a quartz one and the quartz model with an automatic one.

This piece has 1832 engraved on the inside the caseback.

So this was a automatic model Ref.1832 originally and
the movement and dial seemed to be replaced with quartz version later.

In the catalog, the quartz movement version is Ref. 3003, so we refer to it as 3003.

For a more in-depth, please read this article of our magazine.

IWC INGENIEUR SL "JUMBO" QUARTZ REF.3003-ARBITRO MAGAZINE

The fish crown, which indicates water-resistance, is also firmly come. The crown is screwed down.

The dial is a rhodium plated silver dial. It has a vertical satin finish.

The color of the dial changes depending on the angle of view and the way the light hits it, making it a very interesting dial.

The tritium luminous on the dial and hands has aged very well.

The bracelet length is 20.5 cm.

The movement is a quartz Cal.2405.

Based on ETA 940.111, IWC has elaborately finished this movement.

The watch has been completely serviced and the battery has been replaced in the service.

The case and bracelet have not been polished in the service.


[About Leather Strap]
Due to Washington Convention, we cannot export Crocodile/Alligator/Lizard leather overseas.

We will replace the strap with a similar strap made of calf leather as an alternative.

Or we will send the watch without strap if we don't have stocks of them.

[Payment Method]
1. Credit Card (Visa/Master/Amex)
2 Wire/Bank Transfer
*We have U.S bank account and European bank account. So you don't need to transfer internationaly.

[Delivery]
Shipped via FedEx International Priority.
Normally,Item will be shipped in 1-2 working days after payment received.

Tracking number will be provided, and insurance will cover if the item is damaged or missing in the shipping process.

[Custom Duty]
International buyer has a responsibility to pay import duties, taxes or charges. (ex VAT/GST)

We do not accept to declare lower value on shipping label or invoice.We will declare full value of them.

If you would like to know how much it will be, please check approximate cost below.
Import Duty Calculator - SimplyDuty

These costs normally collected by courier when you pick up item or after your receive.

[Return]
We accept return in the case of shipping mistake or item defect in 14 days after your receive.
1.Can I reserve it?
-Since it is also sold on the web, it cannot be reserved.

2.Can you adjust the bracelet?
-If you fill in the approximate arm circumference when ordering, we will send it after adjustment.
(*Riveted bracelets and folded link bracelets require some time to be adjusted by a repair craftsman.)

3. How long does it take for "delivery after complete service?
-Please consider it to be about 1 month from the date of your order.
(*It may take a little longer depending on the schedule of our watchmaker and the degree of congestion.)

4.Is there a payment deadline? (Bank transfer)
-If we cannot confirm the payment within 2 days after placing the order, the order will be canceled.

5.Can I order by cash on delivery?
- Due to the nature of the product, we do not accept it.
Our stance is that "customers can use good products with peace of mind for a long time."

In order to achieve this, the presence of a skilled repair craftsman is essential.

How well the work is done depends largely on the thoughts of the craftsman.

The watchmakers who Arbitro asks are craftsmen who do not cut corners in such areas, so we ask them to carry out the repair work with peace of mind.

About Complete Service
Complete service, sometime called overhaul is the work of disassembling a mechanical product down to its individual parts, cleaning and reassembling it to bring it closer to its new state of performance.

Roughly speaking, the overhaul procedure is as follows.
1. Separate into case and movement
2. Disassemble the movement
3. Inspection and pre-cleaning of wear condition of each part
4. Wash parts with a special machine
5. Lubrication and assembly
6. Waterproof test
7. Final adjustment and running test.

Some movements are made up of hundreds of parts, but it is a very meticulous process of disassembling them one by one, inspecting them all, cleaning them, and reassembling them.

If you don't overhaul, the oil will deteriorate just like a car, and the risk of wear and damage to parts increases, causing a decrease in accuracy and, in severe cases, not working.

There is also the reason that it will be very expensive to replace parts after they are found to be damaged, so we recommend overhauling once every 2-3 years for economical and long-term use.


About Polishing

Vintage watches have been used for decades, and even the stainless steel used in many watches has rounded corners that were originally sharp, and has many small scratches even though the mirror finish should be beautiful. state.

At Arbitro, some watches are sold with a new finish, based on the idea that you can purchase them in beautiful condition and use them for a long time.

In particular, gold-cased dress watches are finished to bring out the best of the precious metal case.

The watches sold by us that have been given a new finish are shot in very high definition, so you can see that the edges stand out and the light is reflected by the mirror finish.

Also, depending on the case or bracelet, there are cases where multiple finishes such as mirror finish and hairline finish are mixed, but there are not many craftsmen who can distinguish between them and finish them at a high level.

In addition, the "thinness of the case" is also a part that is greatly influenced by the skill of the craftsman.

A watch that has become thinner and has thinner lugs is far from its original design, and the appearance becomes unbalanced.

It is a very precise work that brings the case closer to the original finish by eliminating scratches and dents while reducing the thickness of the case to the utmost limit.

Of course, there are cases where it is better to use the watch as it is, in order to emphasize the history of the watch and its original condition.

We look at each watch and judge whether it is best to finish it before selling it.
Choose options